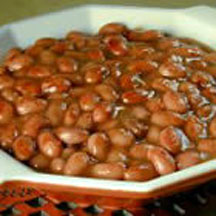 This is a recipe that my wife uses when we are expecting a large amount of company or going to a family reunion. It goes perfect with ham, deviled eggs and dinner rolls. This tasty dish can easily take the place of basic, ordinary baked beans and could even be a meal all by itself.
Chuck Wagon Beans
Ingredients:
1 lb. of bacon slices
3 lb. of ground chuck
3 cups of finely chopped celery
2 beef bouillon cubes
2/3 cup of boiling water
1 clove of garlic chopped (or 1 tsp. minced garlic)
1 cup of ketchup
3 tbs. of mustard
1 tsp. of salt
tsp. of black pepper
2 cans of 29 oz. baked beans (molasses style)
Directions:
Heat the oven to 375 degrees. You will need a Dutch oven or large roasting pan. Fry bacon until crisp and set aside. Drain fat from the pan you fried the bacon in and use the same pan to fry ground chuck. Mix in onion and celery and continue to fry until meat is brown and onion is tender. Dissolve the bouillon cubes in boiling water. Stir the bouillon broth and the remaining ingredients into the meat mixture in the roasting pan. Cover and bake for 1 hour and 15 minutes or until hot and bubbly. Crumble bacon and sprinkle it over the chuck wagon beans.
Makes 12 one-cup servings.
Source:
Image Credit